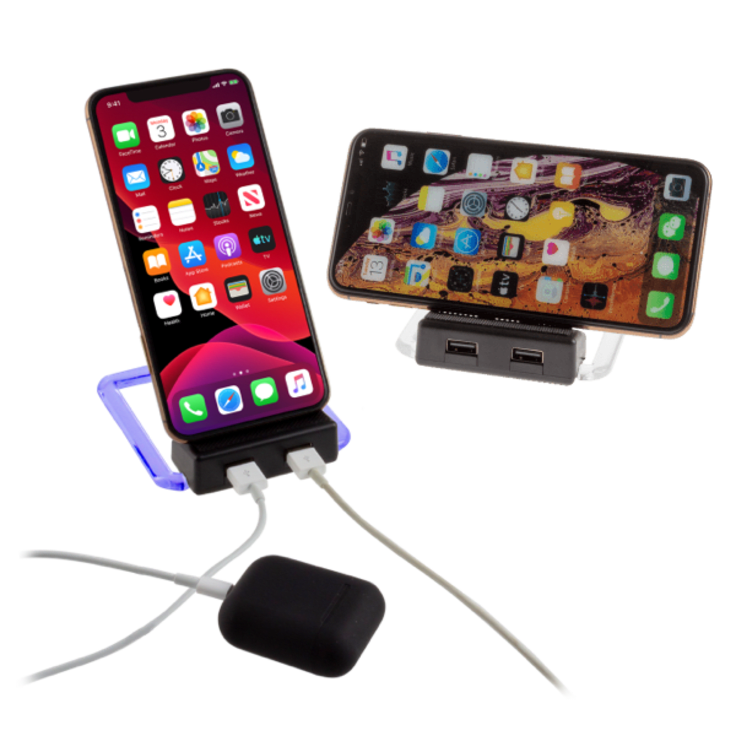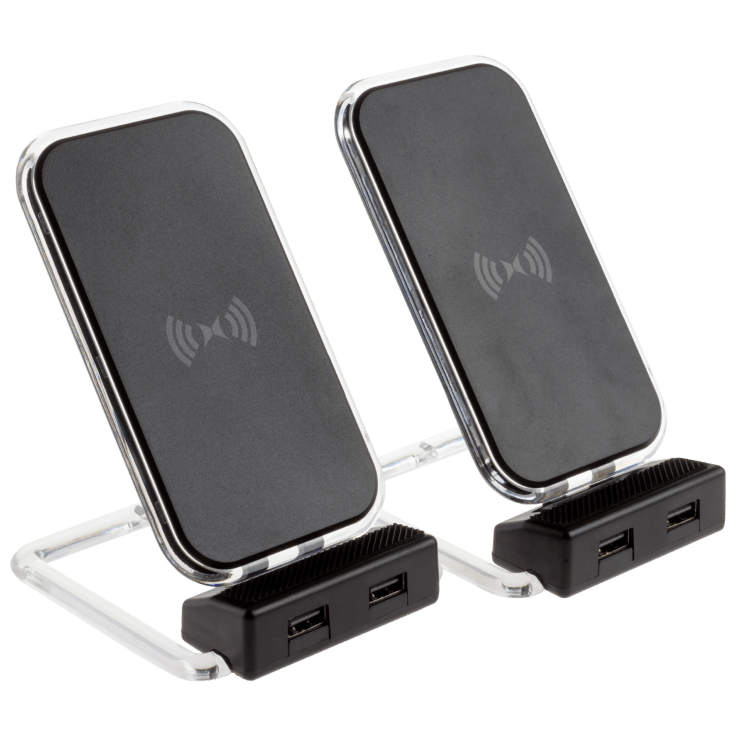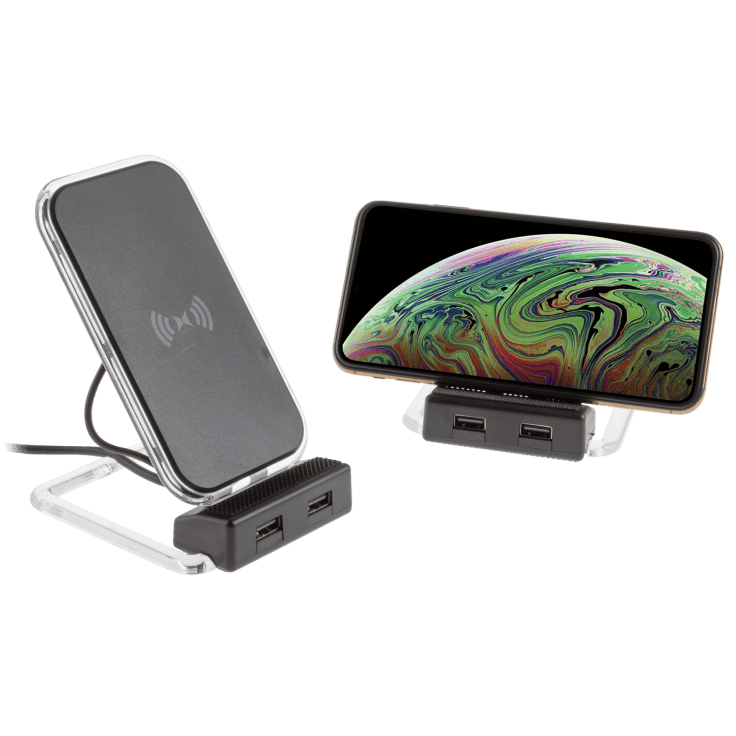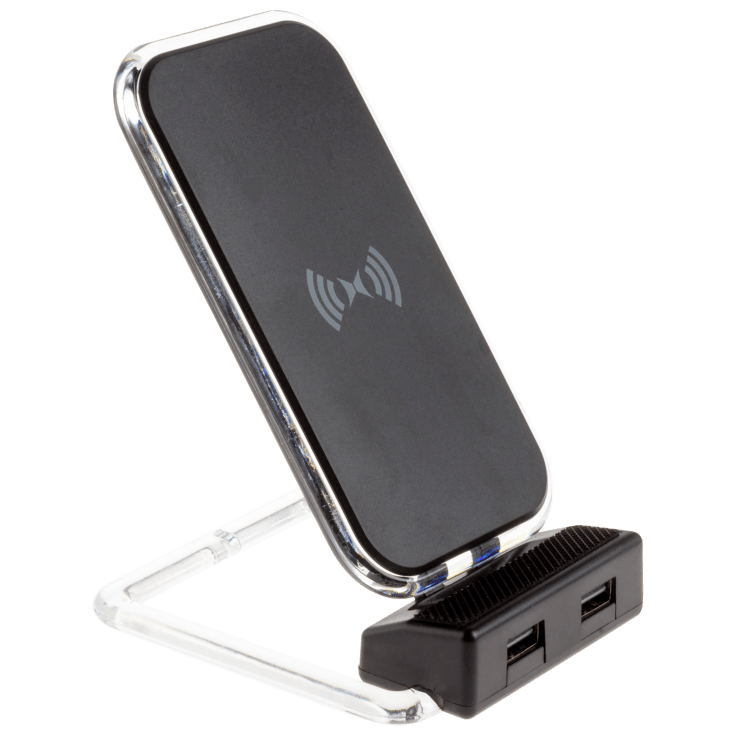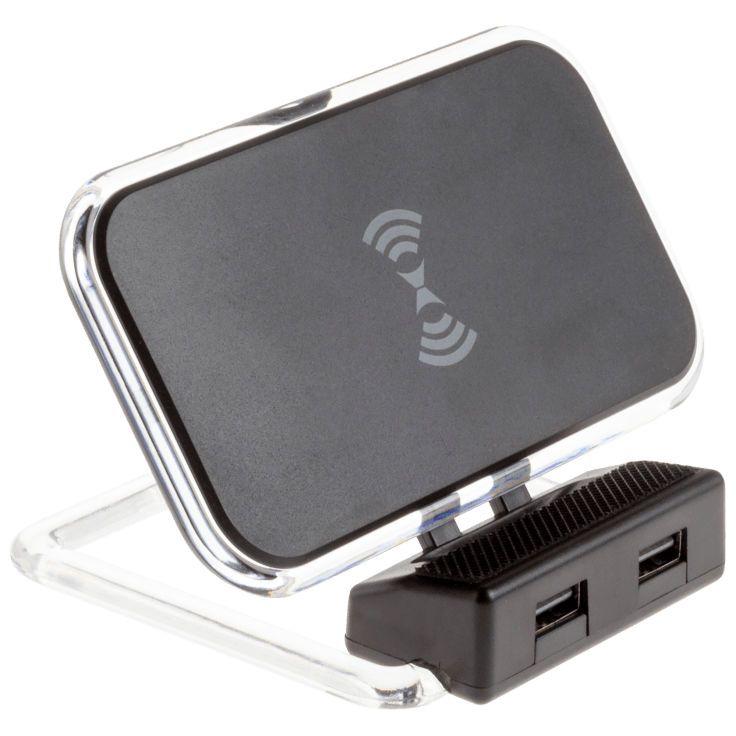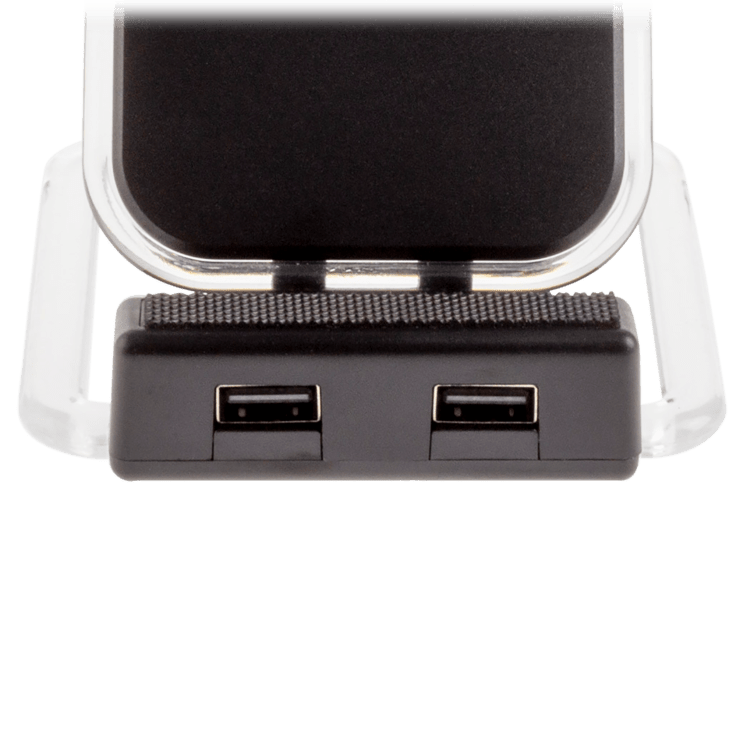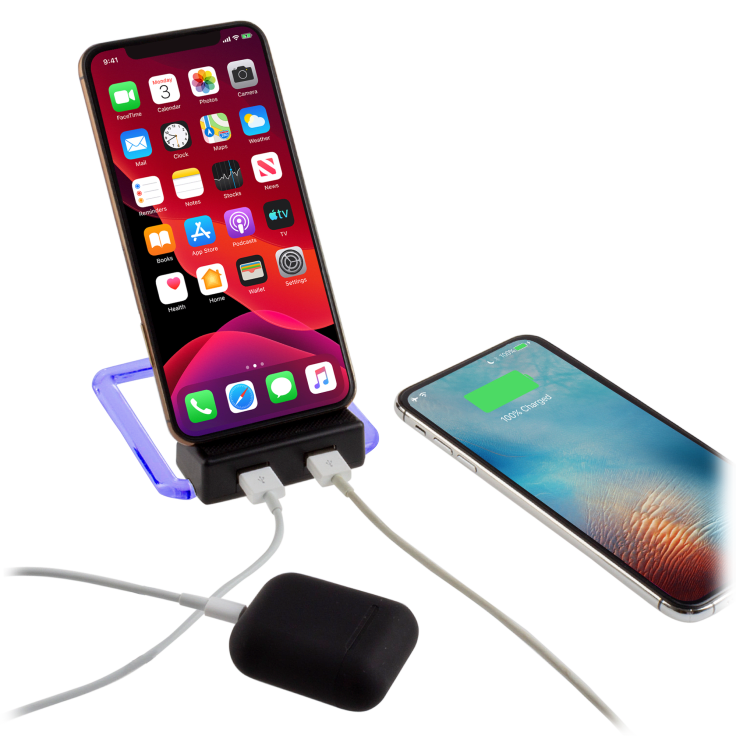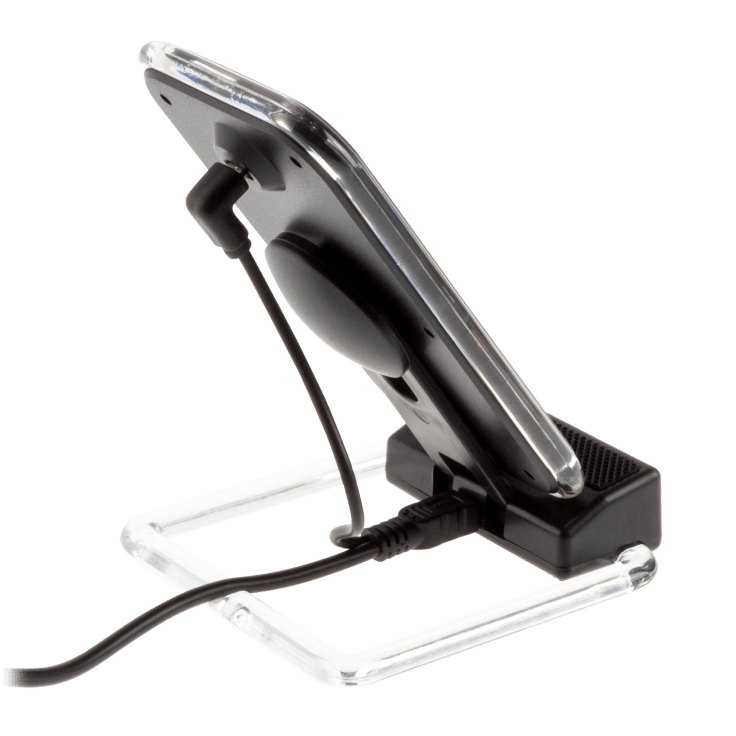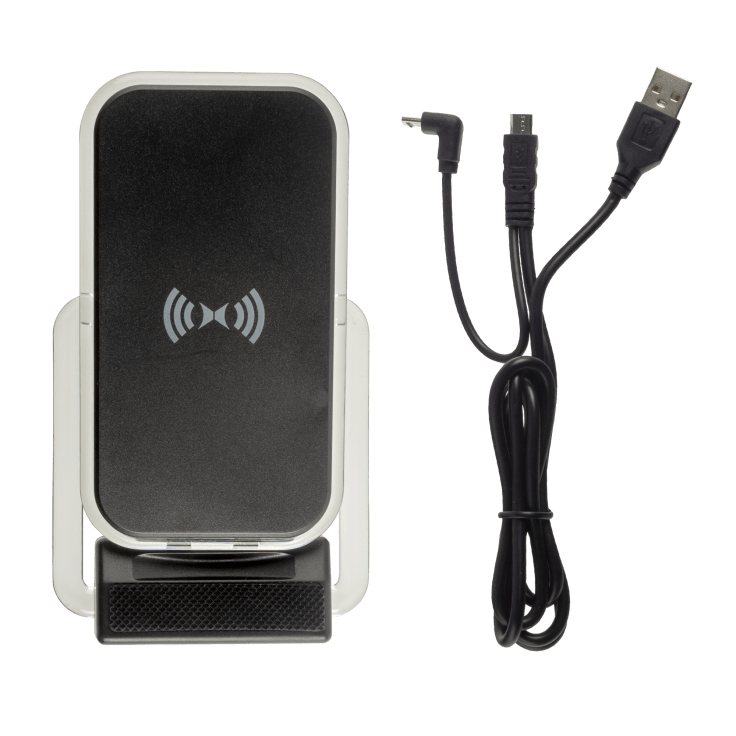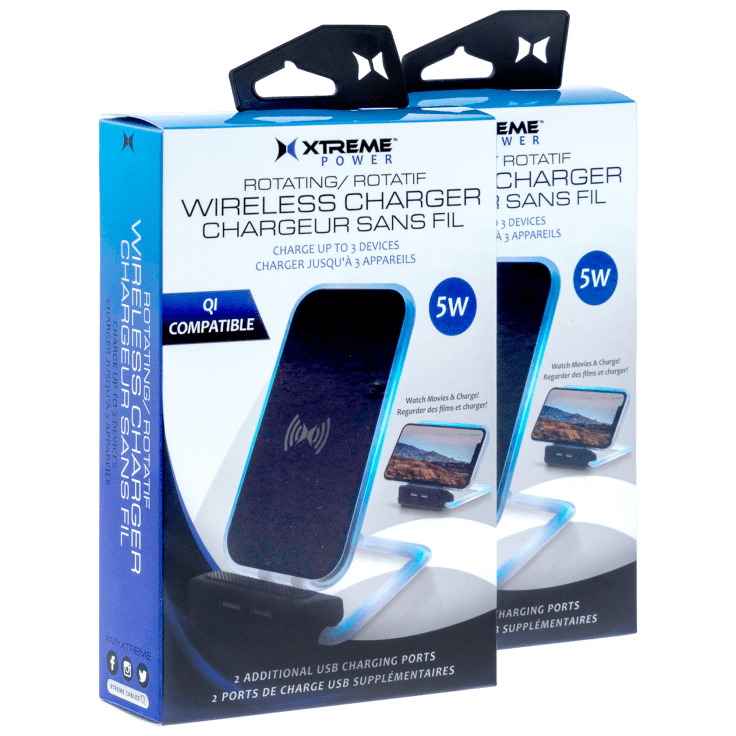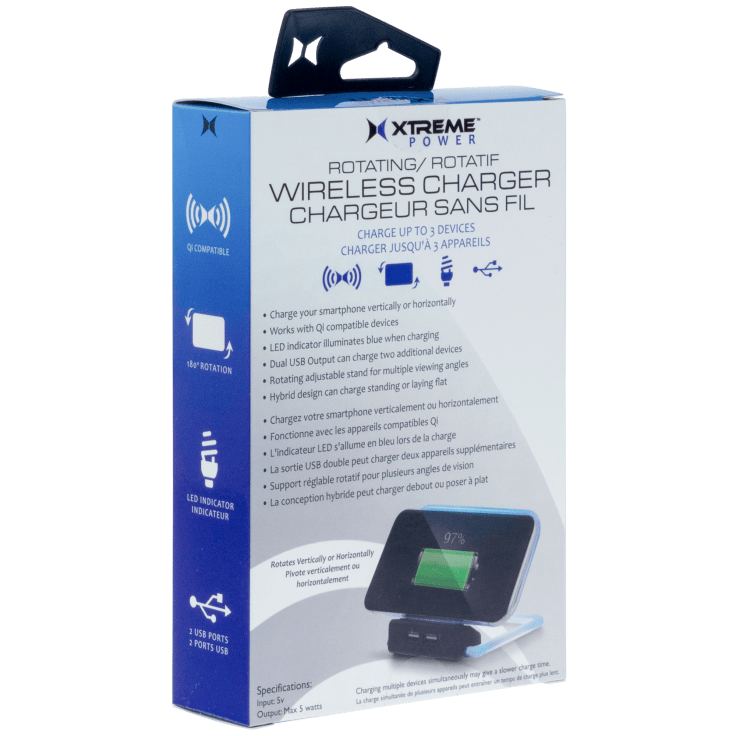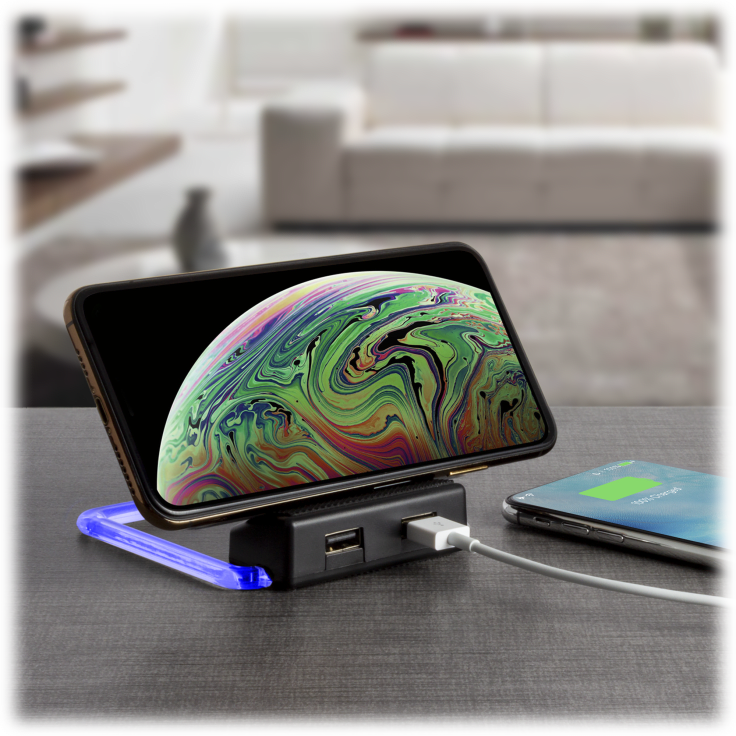 2-Pack: Xtreme Power Rotating Wireless Charger with 2 USB Ports
Features
Charge your smartphone vertically or horizontally
Works with Qi-compatible devices
Dual USB output can charge two additional devices
180 Rotating adjustable stand for multiple viewing angles
LED indicator lights up Blue when charging
5 Watts
Dimensions: 7" x 5" x 3"
What's in the Box?
2x Xtreme Power Rotating Wireless Chargers with 2 USB Ports
2x "Y" USB Cables
Specifications
IMPORTANT - Please check that your phone has Qi charging capabilities
Wireless Qi charging should work with
Apple iPhone: 8, 8 Plus, X and newer models
Samsung Galaxy: S9, S9+, Note 5, Note 8, S8, S8+, S7, S7 Active S7 Edge, S6, S6 Edge and newer models
LG: V30, G6 and newer models
Warranty
Estimated Delivery Date
Standard: Thursday, Oct 29 - Tuesday, Nov 3.
Enhanced: Monday, Oct 26 - Monday, Nov 2.
Reviews
Verified Purchase
Phone Chargers
I love these phone charges. They look cheap but they charge your phone quickly. Some phones have to be played sideways instead of standing straight up. Like they light up so u can see it in the dark.
Written by @Kathydak - September 13th 2020
Verified Purchase
Written by @Dylan1102 - September 26th 2020
Verified Purchase
I like them. Very satisfied with them.
Written by @gloriagarner - September 23rd 2020
Verified Purchase
Works on iPhone SE (2020)
Written by @davisme - September 16th 2020
Verified Purchase
I was thinking the phone would be held to the charger some how, it doesn't.
Written by @tkellogg1 - September 23rd 2020
Verified Purchase
Very cheaply produced does not function well, picture and write up are decieving
Written by @CRRobin - September 18th 2020
Verified Purchase
very unhappy would likea refund
Written by @kane59 - September 21st 2020
Verified Purchase
Not worth the money
One of these didn't even work when we got it out the box and the other works for a minute then quits should get a full refund on these.
Written by @brikee79 - September 15th 2020
Verified Purchase
Doesn't work
I bought two hoping to have one in the bedroom and one in the main part of the house. I have an LG8 thin Q and this does not work even though it says it works on any Qi compatible device
Written by @kiab333 - September 12th 2020
Verified Purchase
False sizes for iphones
I checked before I bought this item that it was compatible for 8 to the newest. I have an iPhone 11 but this does not work for my phone. To small
Written by @LAWilliams1 - September 3rd 2020