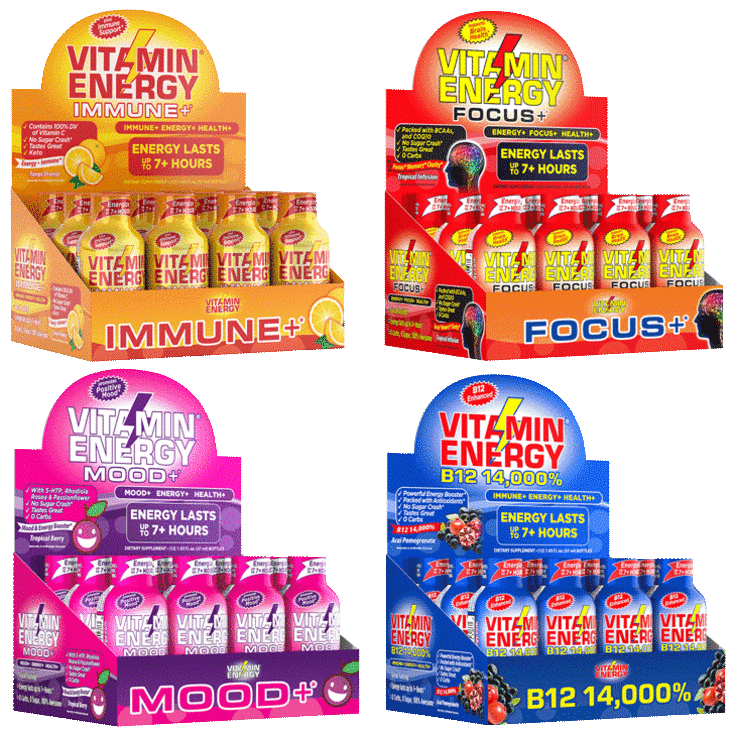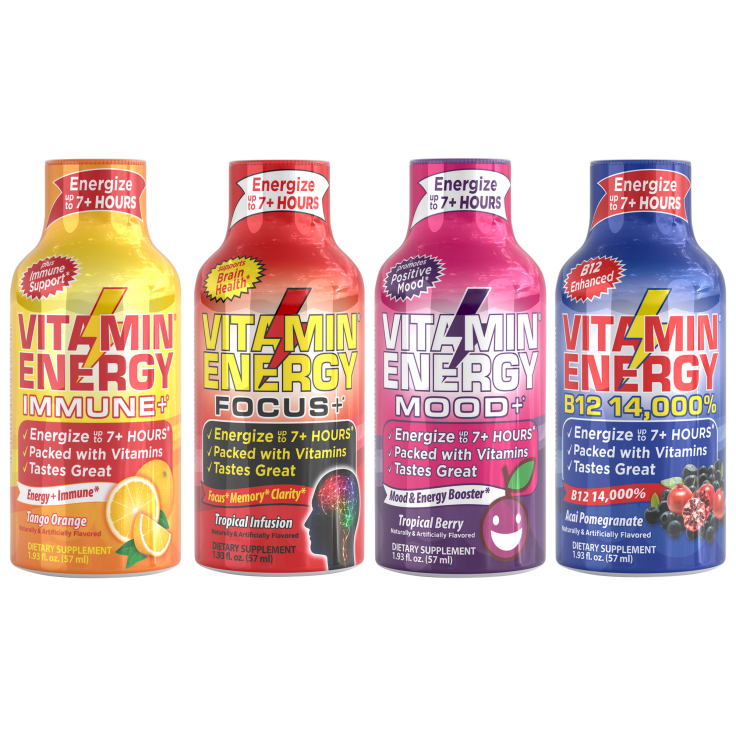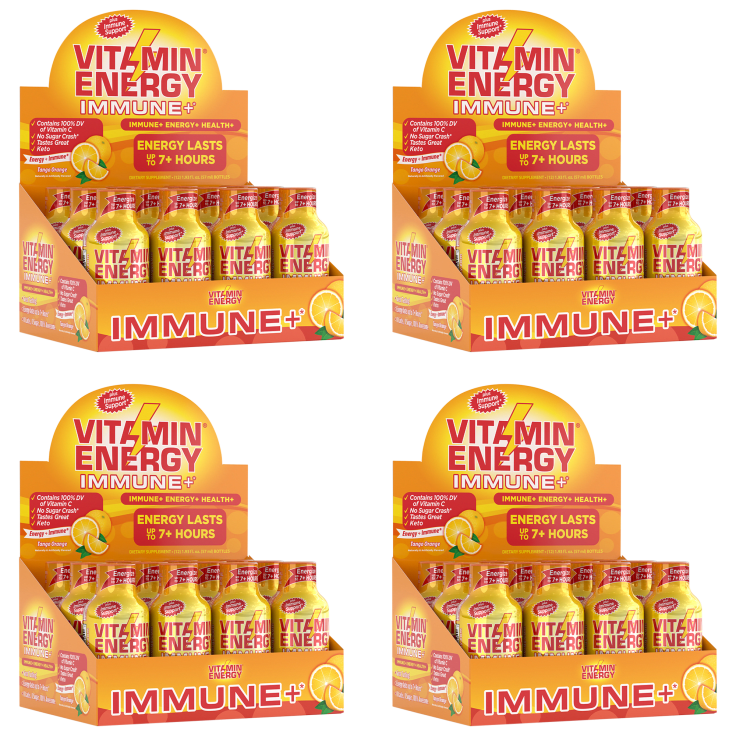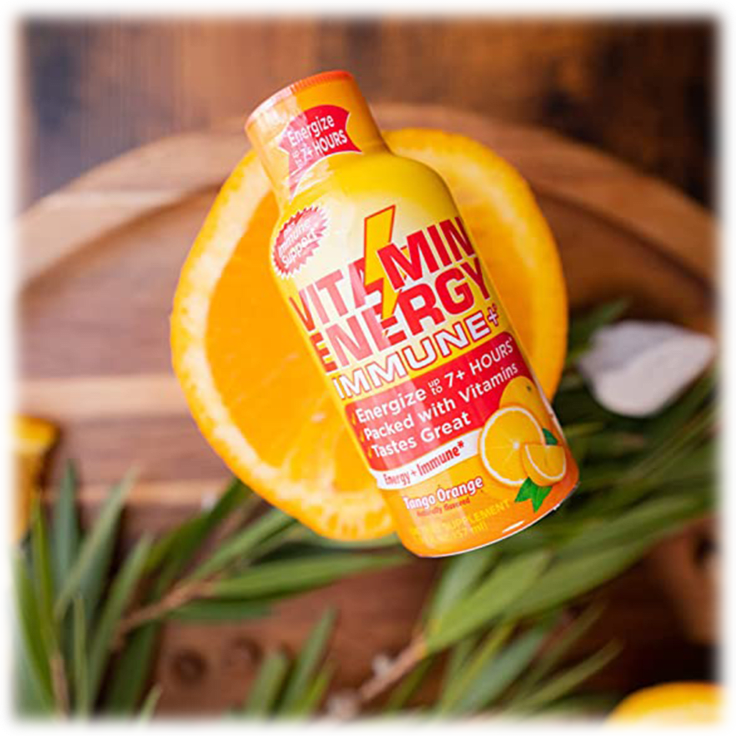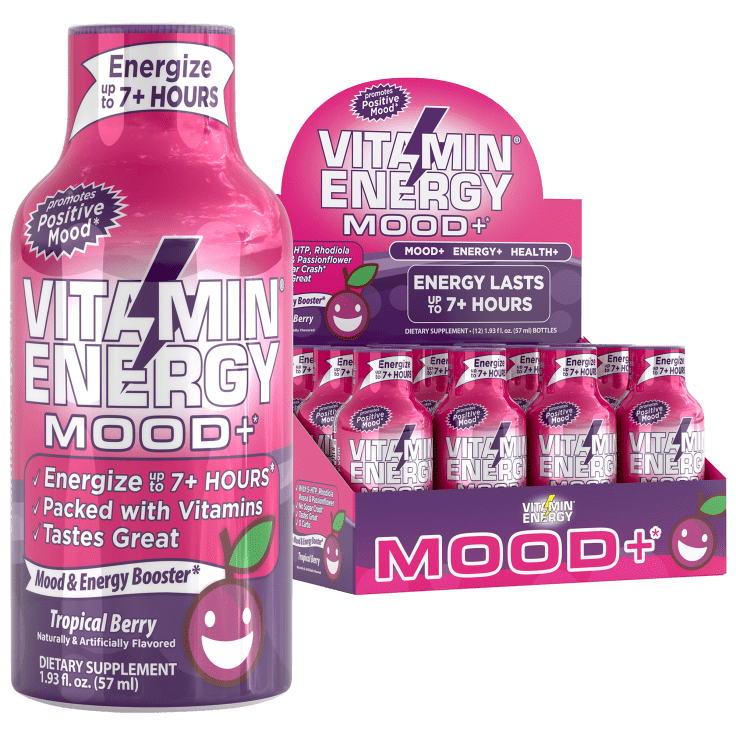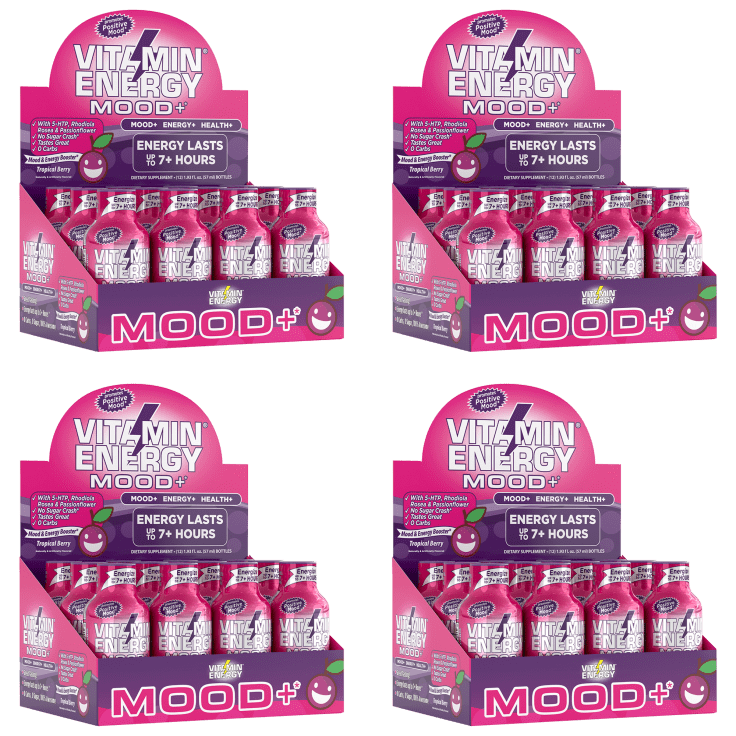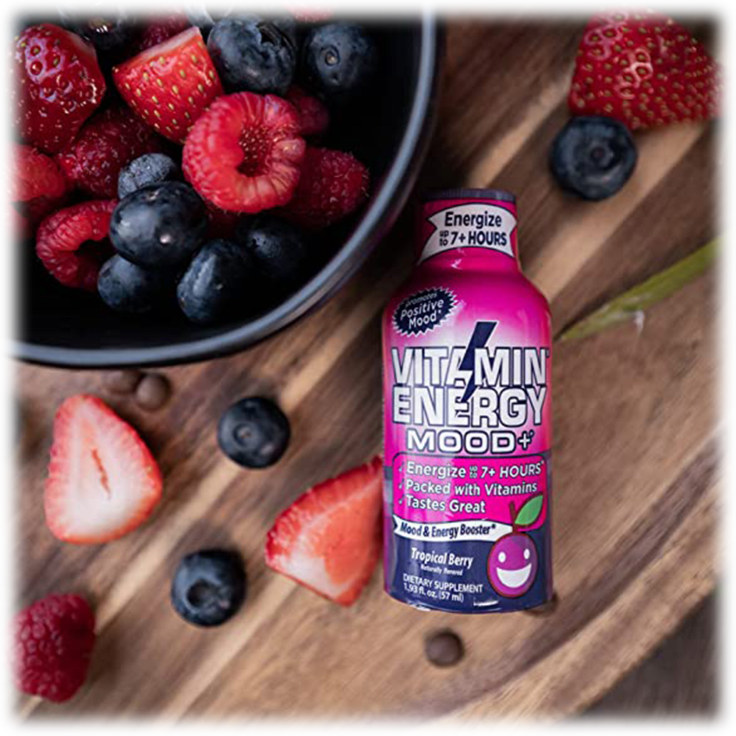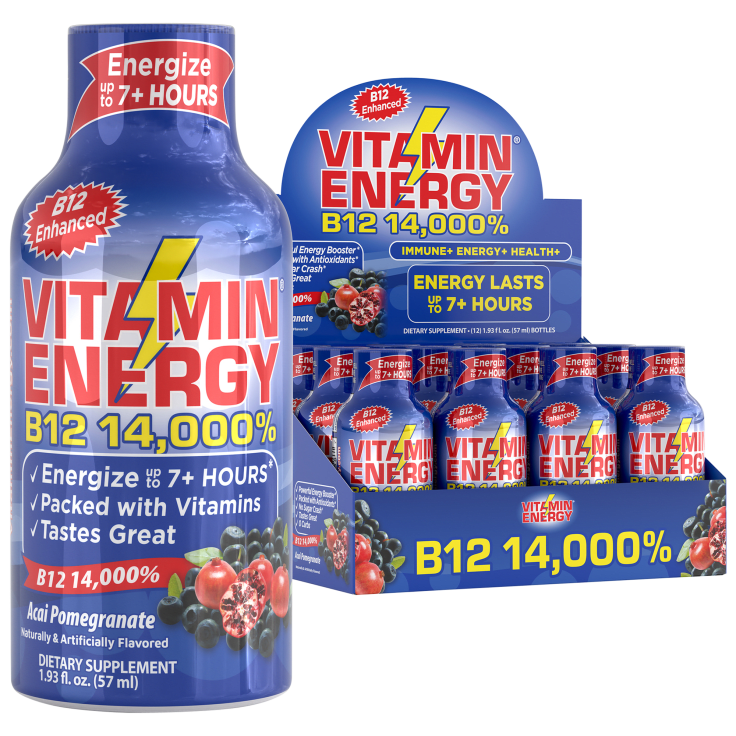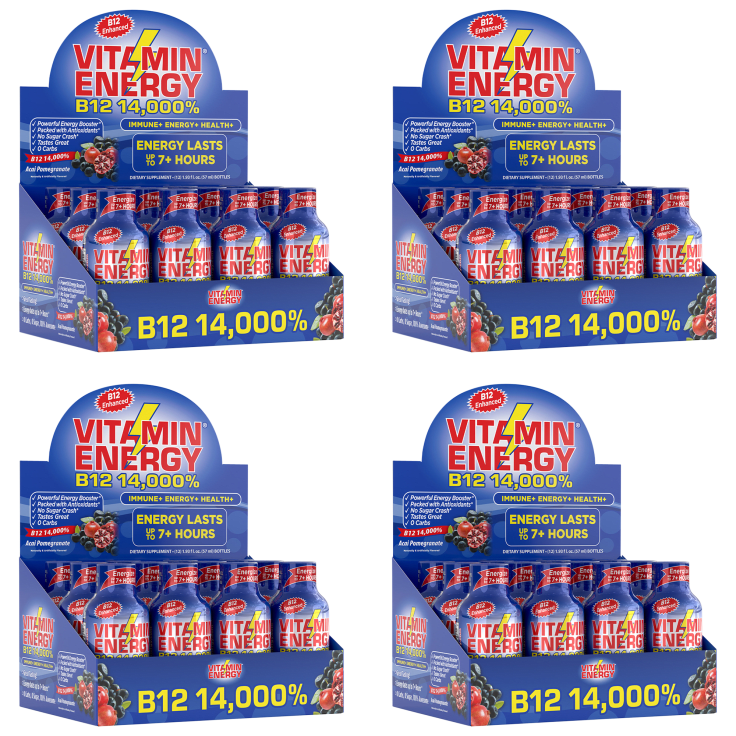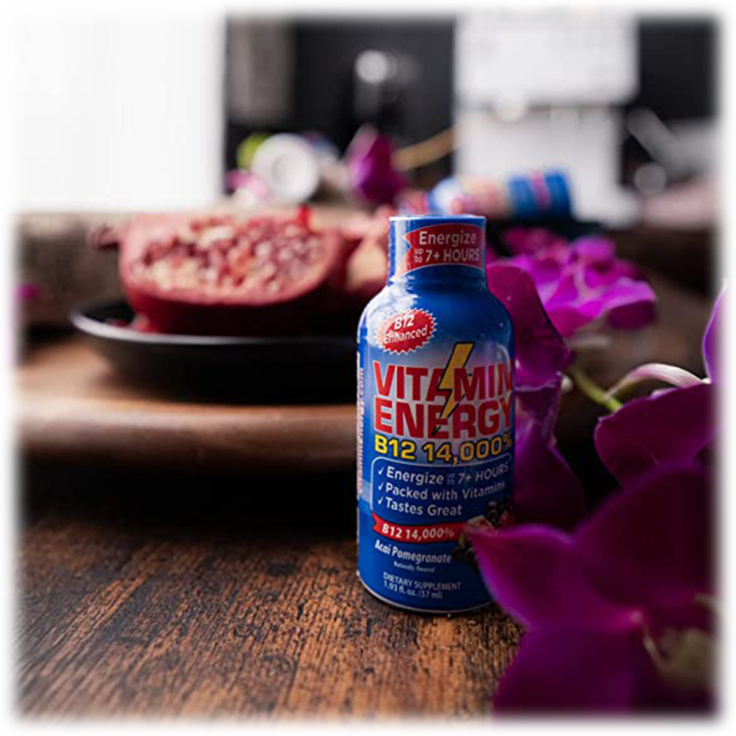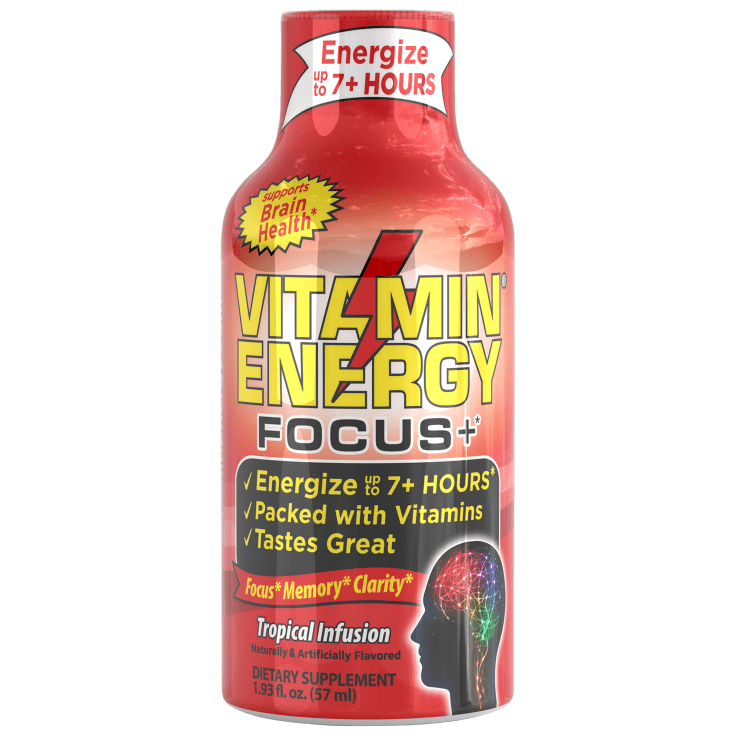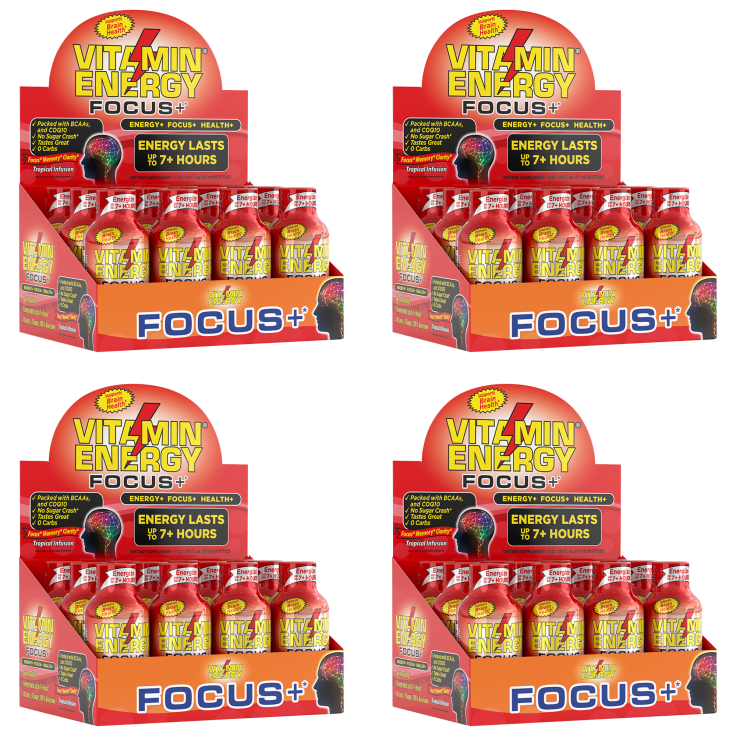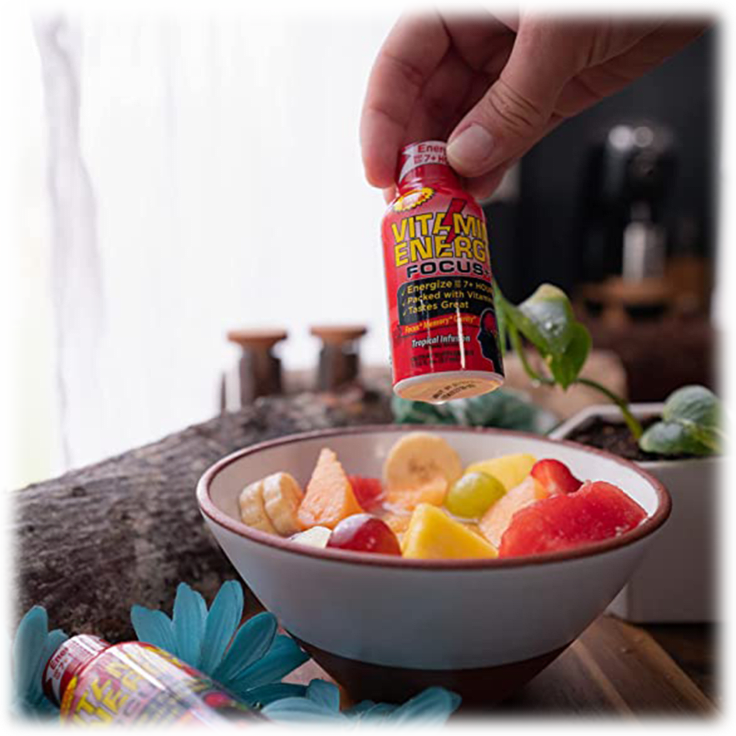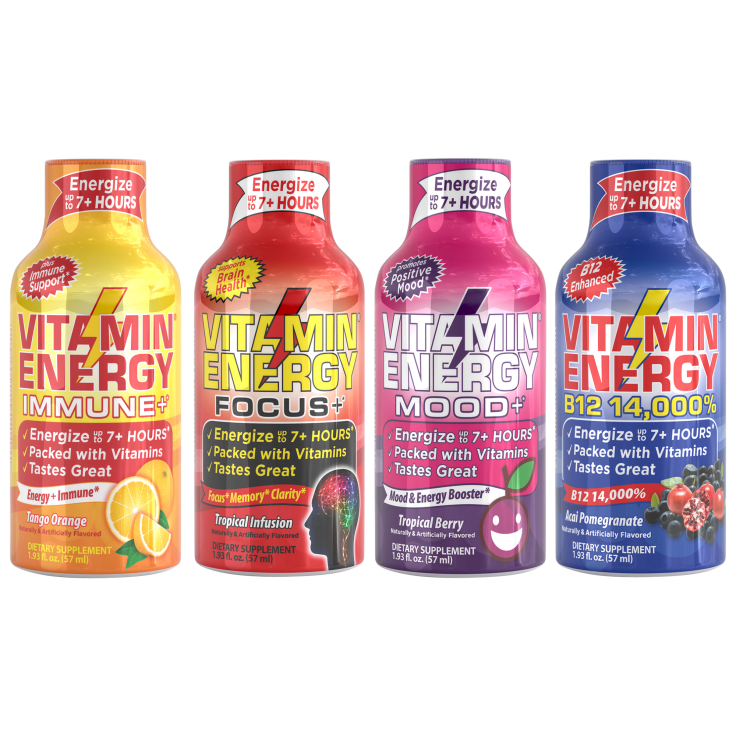 48-Pack: Vitamin Energy Single Serving Shots (Your Choice)
Features
Simply shake it, take it, and feel the energy boost for up to 7+ hours
Digested easier than powder mixes or supplements
Portable for an on-the-go surge of vitamins and energy
Perfectly designed for anyone with a busy lifestyle
Rejuvenates your body and mind with a bold, holistic approach
Feel the mental clarity and experience the increased productivity as a result of supplementing your day with VitaminEnergy
With every carton purchased, VitaminEnergy is helping provide a dose of life-changing vitamin A to a child at risk for malnutrition, through their partnership with Vitamin Angels.
---
Immune Plus in Tango Orange Flavor
Better-for-you energy shot that is super-infused with both vitamins and caffeine
Provides an all-in-one solution for those looking to support their immune health and increase their energy levels in one convenient step
Proprietary blend of L-carnitine, green tea extract, caffeine, 100% of DV of vitamin C, and 100% of your daily value of vitamin B
Uniquely designed to significantly boost your energy levels and support your immune health
Can also be taken as a keto friendly pre-workout supplement
---
Focus Plus in Tropical Infusion Flavor
Sharpen your focus on the job, strengthen stamina on the trail, or increase your running energy levels
BCAA is a supplement known to aide in improved focus, memory, clarity, and energy. It plays an important role in healthy neurotransmitters and brain cell responsiveness
CoQ10 is known to help reduce sluggishness and sharpen focus and concentration
Uniquely designed to significantly boost your energy levels and support your brain function
Focus+ ingredients are known to help increase your mental sharpness and energy levels safely and effectively
Super blend of vitamins and nutrients combine to deliver real results that work with helping to boost mental clarity, cognition, and energy levels
No sugar, no carbs, and ultra-low calorie drink
Fuel your day without spoiling your diet
A rush of tropical fruity flavor that is exceptionally tasty
---
Mood Plus in Grapelicious
Super-enhance your cognition, sharpen focus and boost metabolism that supports your natural energy and metabolism levels while supplementing your immune system health
Premium, exclusively designed with mood boosting vitamin supplements is formulated with 5-HTP that helps elevate mood by increasing serotonin levels in the brain and health and also achieve clarity & balance
Packed with vitamins that are known to help support anxiety relief and a positive mood boost
Rhodiola Rosea helps support the reduction of stress and helps improve mental fitness & resilience while passion fruit is known for its anti-anxiety properties
The most potent energy and energy enhancing products and keto supplements were selected to help boost cognitive function and dramatically improve potential ability
Powerful energy booster with no sugar crash, ultra-low calories, and zero carbs
Takes your concentration and focus and provides an energy boost to keep you mentally strong
Helps to protect and revitalize your body at the cellular level by providing energy and enhanced mood
A super blend of keto vitamin and nutrients combine to deliver real results that work for men and women
---
B12 Supplement in Acai Pomegranate
Deliciously fruity acai and pomegranate shots are packed with antioxidants to protect from free radical damage that can affect mental clarity and healthy organ function
Keto-friendly shot actively boosts energy while helping to improve mood, increase immunity, and maintain overall health
Fuel your workout or work day without spoiling your diet: no sugar, no excess calories, and no carbs
Vitamin Energy powers up to 7 hours of instant energy
Contains 260 mg of caffeine
Specifications
Pack Options
48-Pack Assortment: 12 of each supplement
48-Pack of Immune Plus in Tango Orange Flavor
48-Pack of Focus Plus in Tropical Infusion Flavor
48-Pack of Mood Plus in Grapelicious
48-Pack of B12 Supplement in Acai Pomegranate
What's Included?
48x Your Choice of VitaminEnergy Supplement Drinks
Warranty
Available States
AL, AZ, AR, CA, CO, CT, DE, DC, FL, GA, ID, IL, IN, IA, KS, KY, LA, ME, MD, MA, MI, MN, MS, MO, MT, NE, NV, NH, NJ, NM, NY, NC, ND, OH, OK, OR, PA, RI, SC, SD, TN, TX, UT, VT, VA, WA, WV, WI, WY