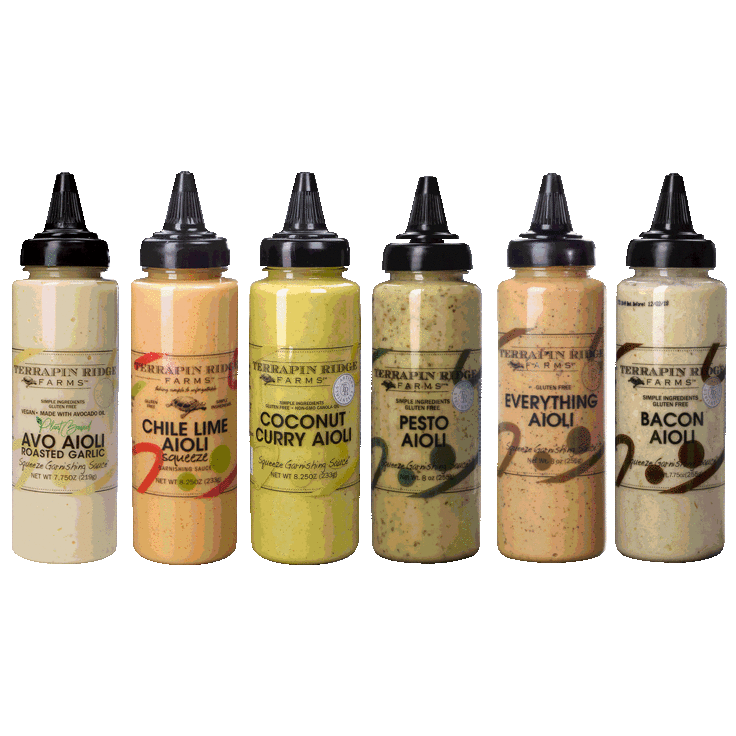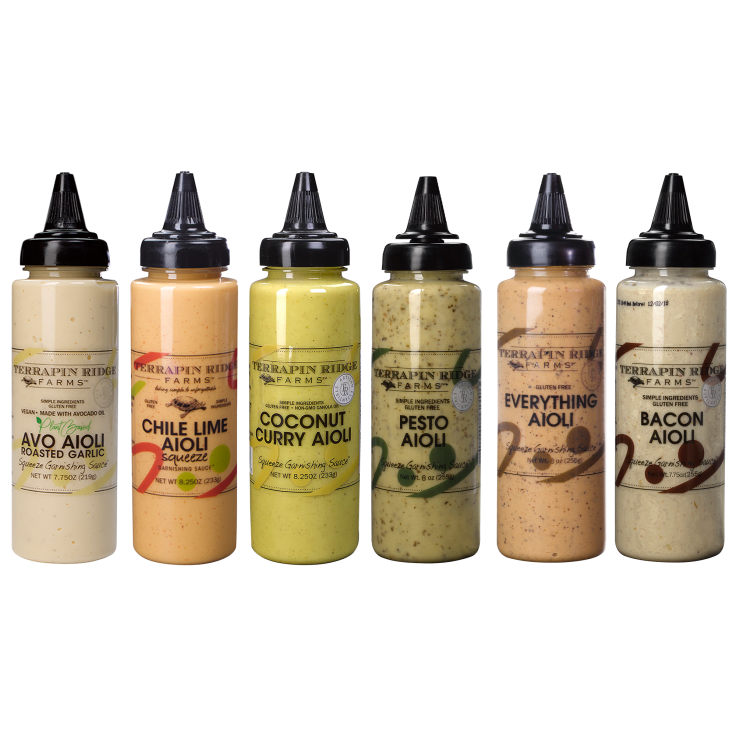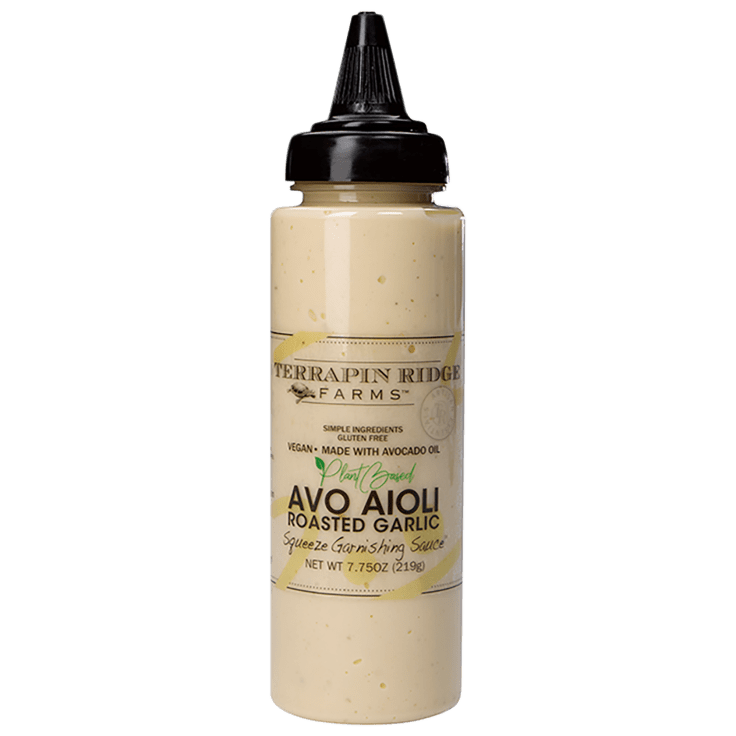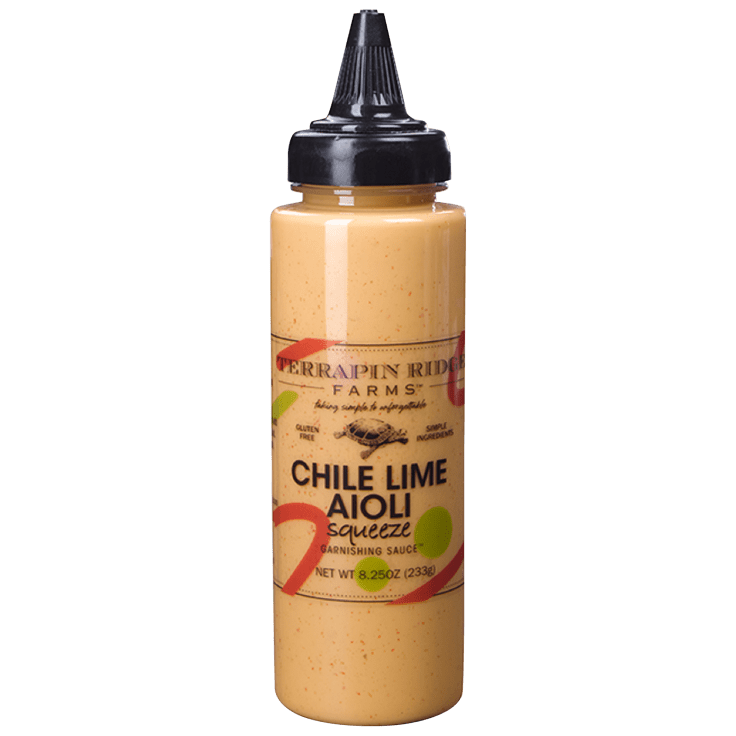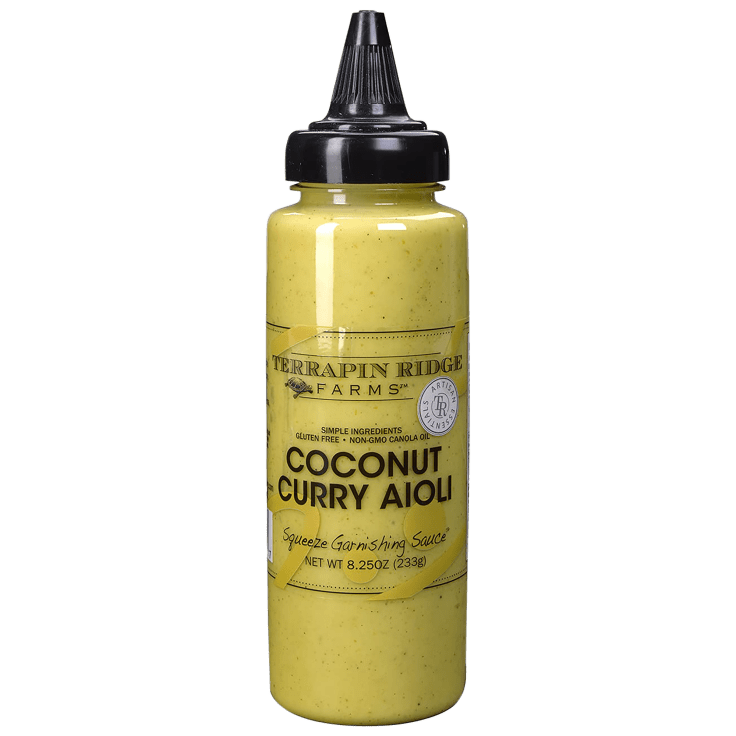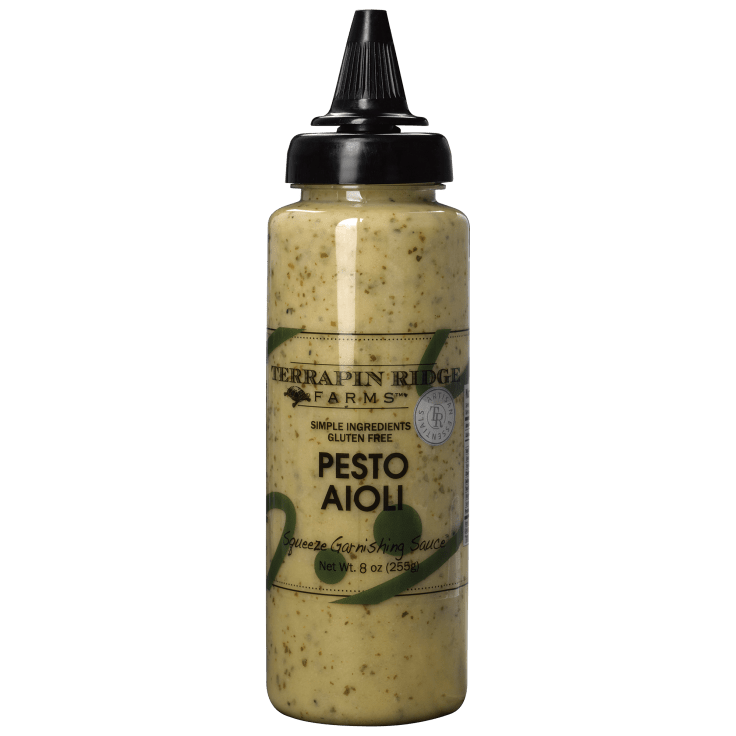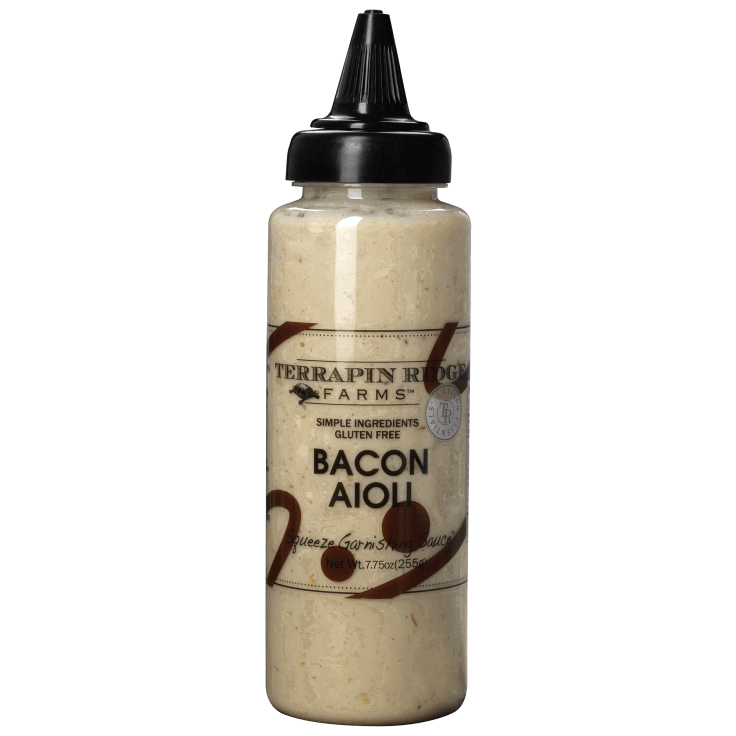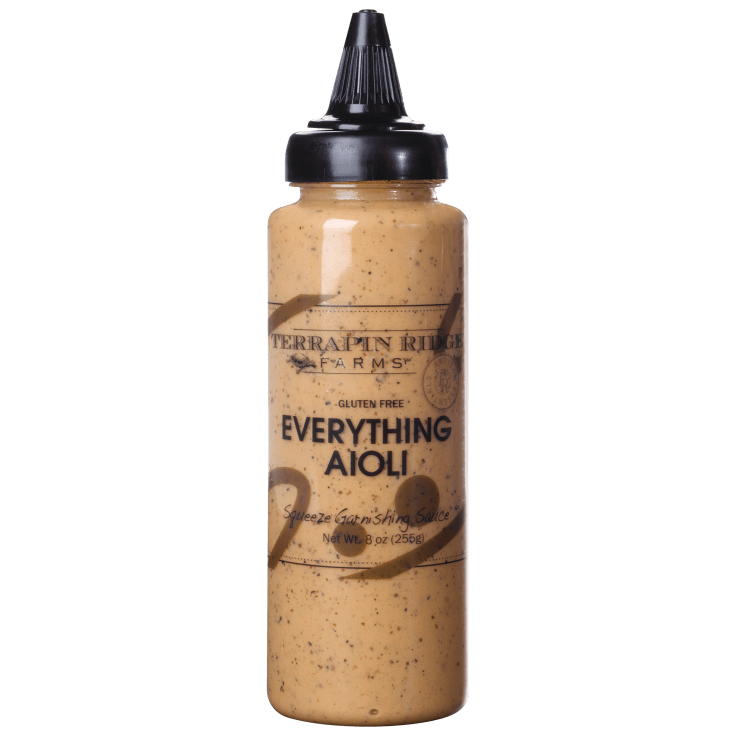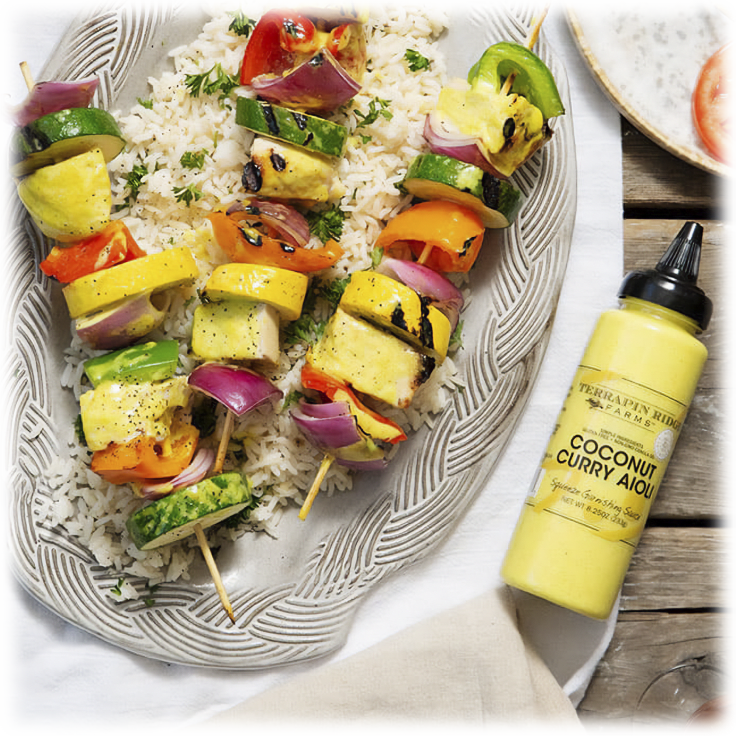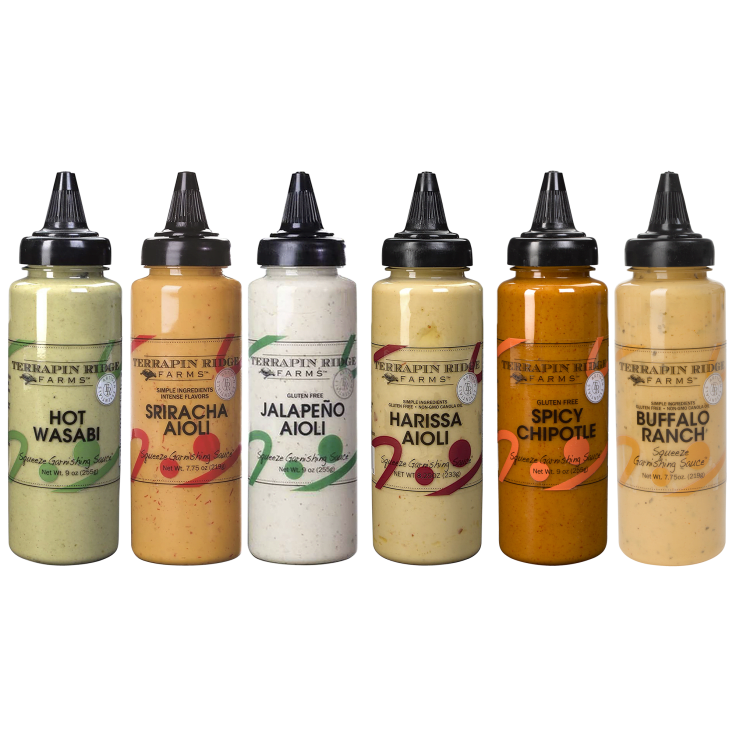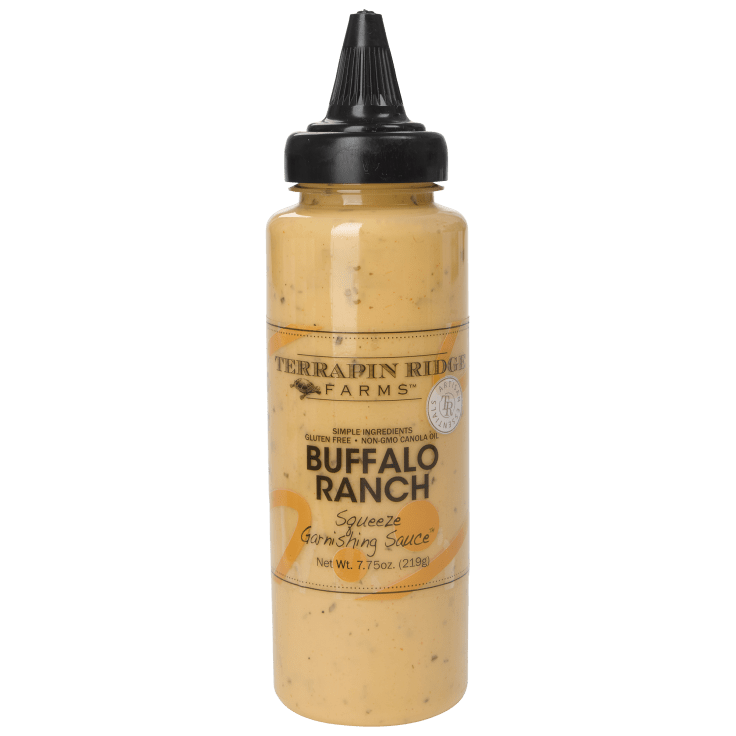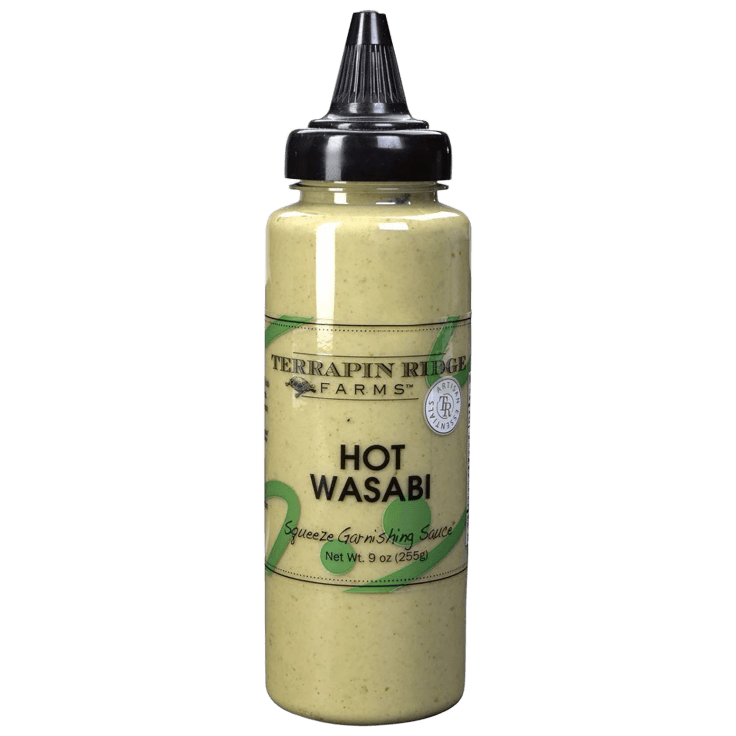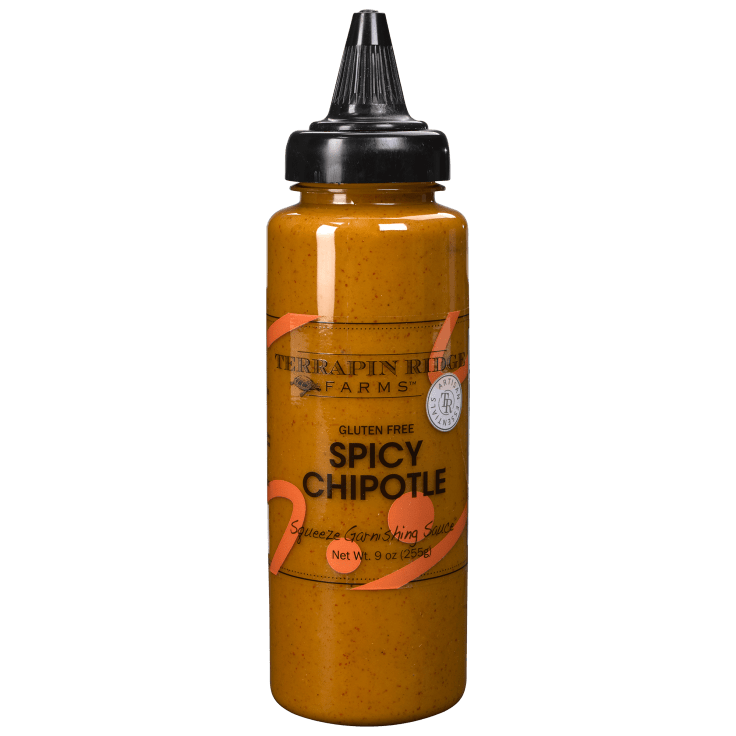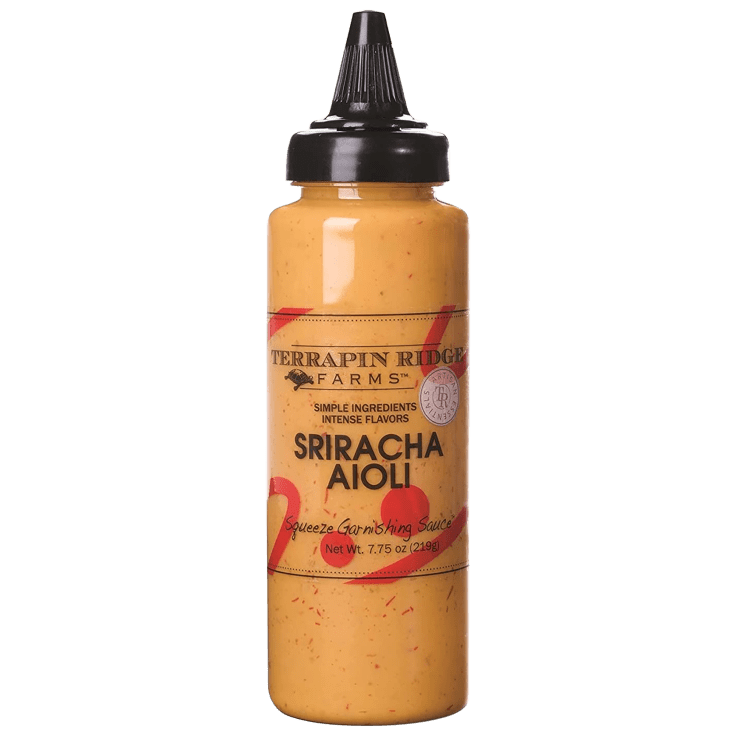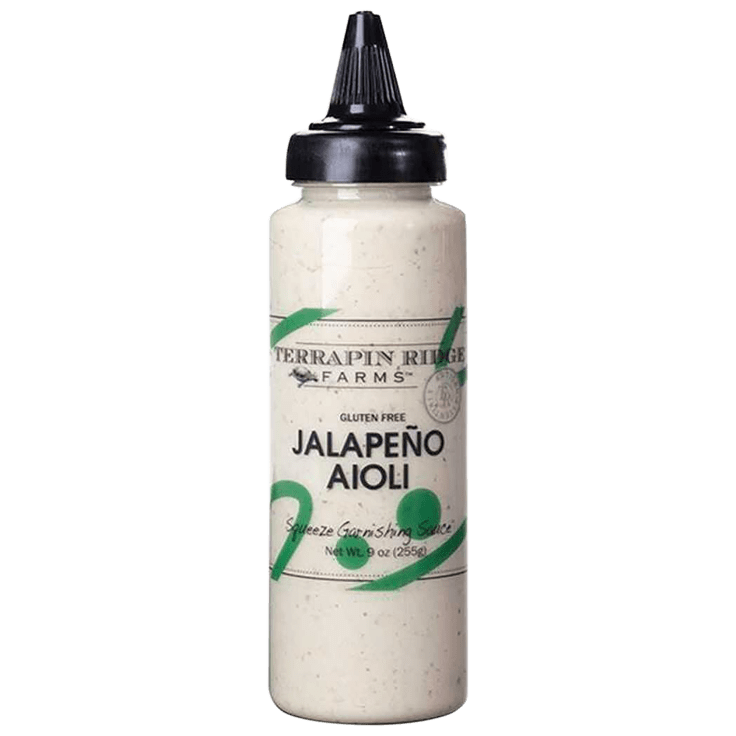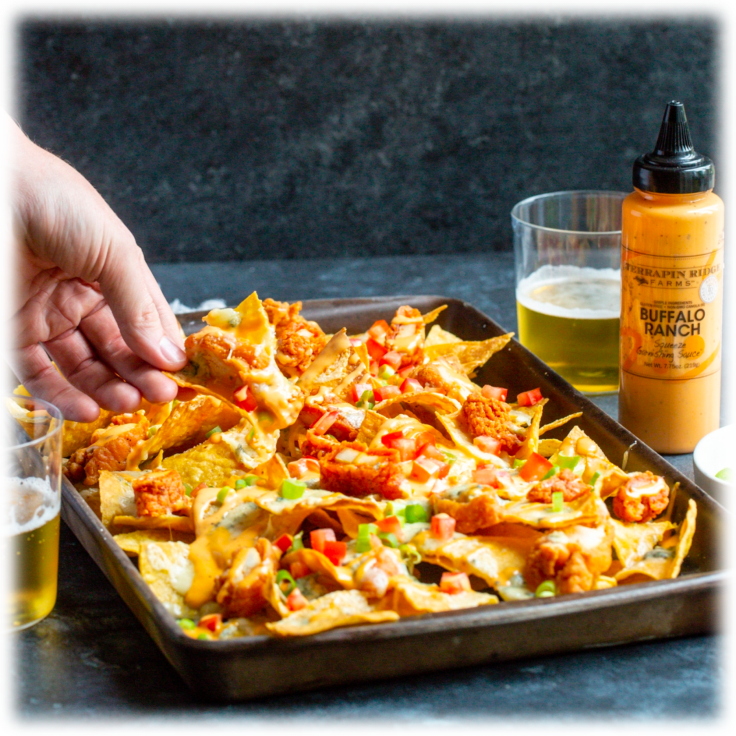 6-Pack: Terrapin Ridge Farm Assorted Garnishing Squeezes (Spicy or Savory)
Features
Savory 6 pack Terrapin Ridge Squeeze Bottles
Avo Aioli Roasted Garlic Squeeze 7.75 oz.
Roasted garlic is added to creamy vegan, plant-based aioli
Mix into your favorite salads or use it as a dip for crudité
Delicious drizzled on french fries, Tater Tots, baked potatoes, and roasted cauliflower
Gluten-Free, Vegan, and Plant-Based
Chile Lime Aioli Squeeze 8.25 oz
Bright and flavorful combination of chili peppers, savory spices and tangy lime
Grilled chicken, fish, and shrimp skewers were made for this mouth-watering condiment
Makes a great dressing for tacos or add to a corn, black bean, tomato and avocado salad
Keto Friendly
Low Carb
Gluten Free
Coconut Curry Aioli Squeeze 8.25 oz.
A aromatic combination of coconut cream and curry
Squeeze this delectable flavor combination on everything including chicken, rice, potatoes, quinoa, shrimp, and noodles
Pesto Aioli Garnishing Squeeze 9 oz.
A bright flavor of basil with a punch of raw garlic makes this velvety aioli
Flavorful spread or dip for veggies and crostini
Perfect for grilled chicken breast, sandwiches, wraps, or as a finishing touch for flatbread pizzas
Gluten-Free, Keto, Dairy-Free, and Non-GMO Canola oil
Allergens: Eggs
Bacon Aioli Garnishing Squeeze 7.75 oz.
Smokey bacon and tart Dijon mustard will delight the taste buds
A perfect burger builder and terrific sandwiches and wraps
Excellent dipping sauce for grilled pork loin, roast chicken, loaded tots, or sweet potato fries
Everything Aioli Garnishing Squeeze 8 oz.
It's all in there-ketchup, pickle, mustard, onion, mayo, and chilies for a little kick
Perfect on burgers, sandwiches, and wraps
Dip French fries and finger foods for a fab and tasty treat
Use in pasta or egg salad
---
Spicy 6 pack Terrapin Ridge Squeeze Bottles
Buffalo Ranch Garnishing Squeeze 9 oz.
Cool, tangy buttermilk ranch and zesty, spicy buffalo sauce
Delicious on wraps, chicken sandwiches, or burgers
Great dipping sauce for fried shrimp, hush puppies, or onion rings
Gluten-Free, Keto, and Non-GMO Oil
Allergens: Eggs, Milk
Hot Wasabi Garnishing Sauce 9 oz.
This sauce gives the perfect balance of wasabi kick and flavor
Excellent for crab cakes, sushi, and ahi tuna
Great garnish for noodle dishes and ramen
Mix with sour cream or mayo and use as a condiment for salmon patties, burgers, fried shrimp, or sandwiches
Spicy Chipotle Garnishing Sauce 9 oz.
A well-blended balance of chipotle peppers, spices, cider vinegar, and the zip of orange juice
Excellent on sushi
Excellent on fish, chicken, or steak tacos
Great to garnish crab cakes or grilled shrimp
Adds a spicy kick to burgers, fries, onion rings, sandwiches, or wraps
Siracha Aioli Garnishing 7.75 oz.
A combination of creamy aioli with Sriracha sauce, balancing the heat of red chiles with a dash of sugar and a hint of citrus
Use to transform your classic deviled egg recipe
Drizzle on sandwiches, grilled fish, chicken, and sweet potato fries
Jalapeno Aioli Garnishing Squeeze 9 oz.
The velvety texture of this aioli combined with spicy jalapenos and a subtle hint of lemon
Level up deviled eggs or potato salad
Use this sauce to add zing to burgers, sandwiches, fries, or other dipping appetizers
Harissa Aioli 9 oz.
Irresistible smoky-spicy Harissa is the main ingredient in our smooth aioli
Drizzle on roasted vegetables
Top burgers, sandwiches, and wraps
Dip chicken fingers or french fries
Swirl into hummus, the options are endless
Gluten-Free, Vegan, Keto Friendly, and Dairy-Free
Allergen: Soy
Specifications
Refrigerate after opening
What's Included?
6x Terrapin Ridge Farm Assorted Garnishing Squeezes
Warranty
Reviews
Verified Purchase
Terrapin spicy garnish squeeze
I received my garnishes bf may delivery date. I got them for a gift. He loves them!
Written by @tamistubbs - July 11th 2022
Verified Purchase
Tasty
Very flavorful and reasonably priced
Written by @DebraCater - June 1st 2022
Verified Purchase
Got Stuff
Written by @ttodayistheday - July 18th 2022
Verified Purchase
Received just before my Annual Fish Fry…taste great!
Written by @lsheally - May 24th 2022
Verified Purchase
Written by @Mohamedyusuf612 - June 8th 2022
Verified Purchase
Sent the wrong items
They didnt send the right product. No buffalo ranch, no spicey chipolte, instead they sent flavors i didnt want that were not listed.
Had I known i wasnt getting the flavors that were advertised, I wouldnt have ordered.
Written by @lilfuz - October 16th 2021
Verified Purchase
gross flavor
There is a horrible aftertaste to all of them. They went straight into the garbage. Total waste of money.
Written by @joswan728 - June 14th 2022
Verified Purchase
Only 5 bottles arrived
I sent a separate message- Buffalo was missing
Written by @ST21 - August 25th 2022