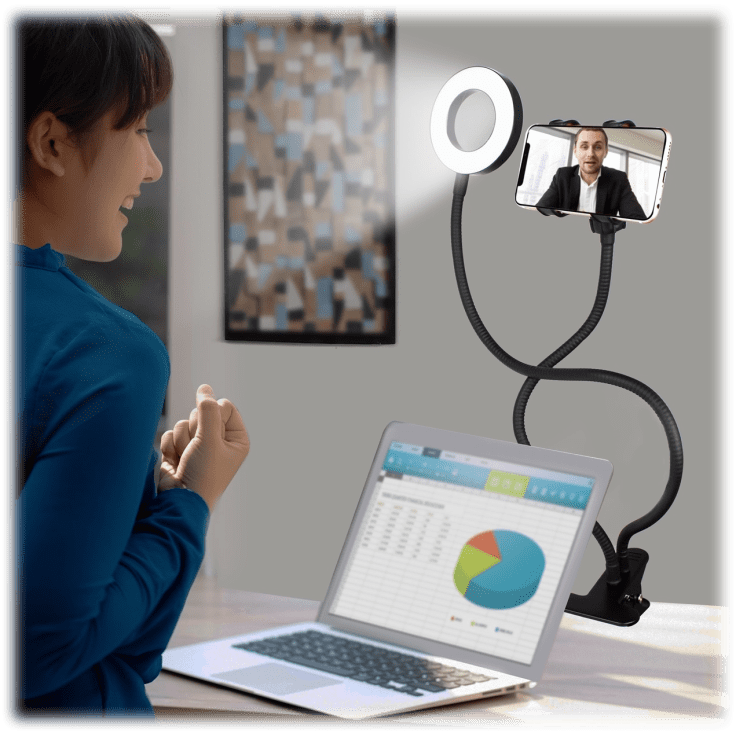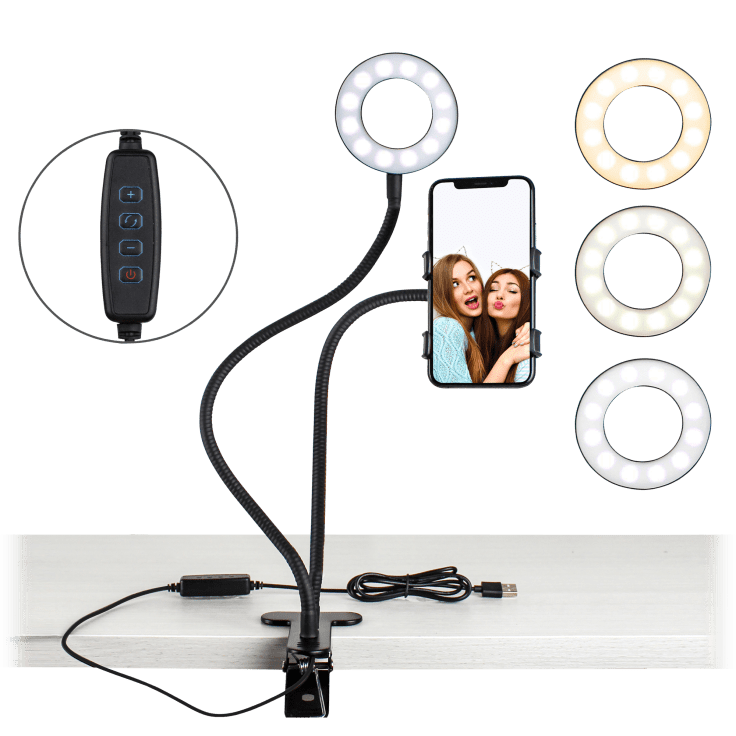 Aduro U-Stream Social Media and Telework Conference Lighting
Features
Ring light offers 3 distinct lighting options: White, Warm Yellow, and Warm White, so you always have the perfect amount of light no matter if you're in a dark room or not
Brightness feature on the remote offers 10 different levels of brightness for you to choose what works best for you
Flexible gooseneck is 24" long so you can always have the best angle while live streaming or taking selfies
Simple and convenient remote control to power the U-Stream Junior On/Off and adjust the lighting modes
USB powered so no batteries are required and you can plug into any standard USB port, even connect it to your laptop or backup battery if you're on the go
Phone holder has a non-slip rubber grip to hold your phone securely in place while streaming
Included in the Box
1x Aduro U-Stream Social Media and Telework Conference Lighting
Specifications
Warranty
Available States
AL, AZ, AR, CA, CO, CT, DE, DC, FL, GA, ID, IL, IN, IA, KS, KY, LA, ME, MD, MA, MI, MN, MS, MO, MT, NE, NV, NH, NJ, NM, NY, NC, ND, OH, OK, OR, PA, RI, SC, SD, TN, TX, UT, VT, VA, WA, WV, WI, WY
Reviews
Verified Purchase
It came just in time for a Zoom meeting.
There weren't any directions, but I figured out how to attach the cellphone holder. Otherwise, it worked out perfectly. It offers an option of 3 adjustable lighting types (fluorescent, white & incandescent). I loved the handy cellphone holder, too. The power cord is designed for a laptop, but could be converted with a USB/AC power adapter (not included). When I was done I just reshaped and stored it to fit in the box it came in. Great purchase!
Written by @ackdesign - December 19th 2020
Verified Purchase
#Selfie queen
Birthday gift for my granddaughter, she

it…
Written by @singingbird - December 17th 2020
Verified Purchase
Excellent Product
THE THREE LEVELS OF LIGHTING IS GREAT. THE CLIP THAT HOLDS THE PHONE IS SECURE. AND I LOVE THAT I CAN ALSO SECURE THE UNIT ON MY DESK, KITCHEN COUNTER AND EVERYWHERE I GO. I BROUGHT THIS FOR MYSELF AND ONE AS A CHRISTMAS GIFT. I WILL BE BUYING MORE.
Written by @DarleneKitchens - December 10th 2020
Verified Purchase
The natural light for the picture.
Written by @Alexander43 - January 23rd 2021
Verified Purchase
Received
Received but have yet to use'
Written by @jeneehudson - December 18th 2020
Verified Purchase
ADURO U STREAM SOCIAL MEDIA LIGHTING
I just saw the identical product at a local store for just $9.99.
I truly overpaid on this item.
Written by @robertagershon - February 4th 2021
Verified Purchase
Not senior friendly
Great concept, especially for seniors. But no assembly or usage instructions are included. It is difficult to use if your hand strength is weakening. I bought two of these: one for me to see if it would be good for an aging friend. Given how long it took me to figure out how to use, and hard it was for me to manipulate the clamps, I will not be giving the other one to my friend.
Written by @chrisco1950 - December 30th 2020
Verified Purchase
Disappointed
How can you clip this onto a table when there's no grip whatsoever… Not recommended!
Written by @sasbot - January 20th 2020