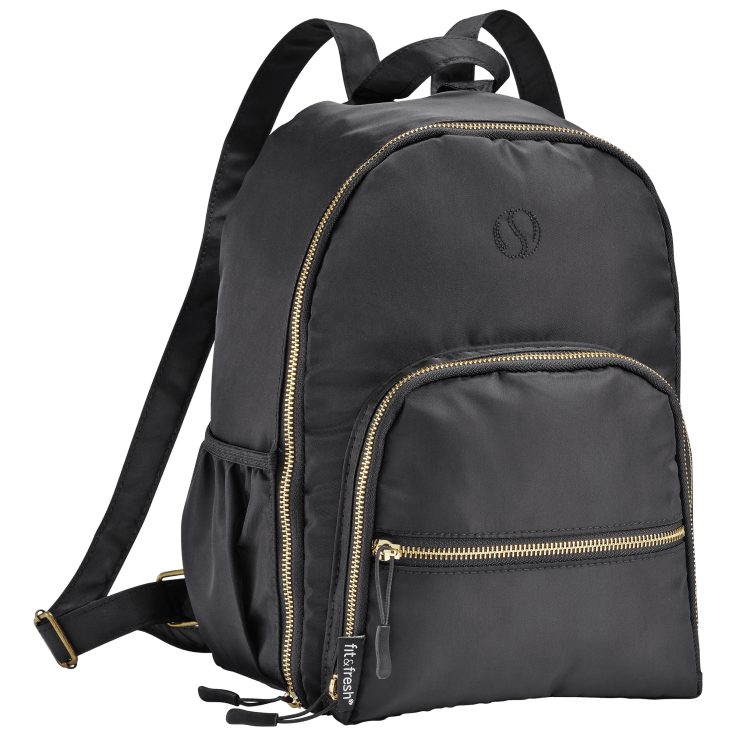 Fit & Fresh Mini Backpack
Features
Style meets function with the Mini Sport Backpack by Fit & Fresh. This adorable backpack is perfect for hands-free carrying to work, school, on vacation or on-the-go. This black with gold hardware making it sophisticated, stylish and versatile – it will go with any outfit! The backpack features adjustable straps and a top handle for carrying by hand. Also, this backpack offers 3 full-length compartments: one large main compartment and two smaller compartments for storing your essentials. The main compartment features a padded open pocket perfect for storing a small tablet and smaller sized compartment features a ring to attach your keys. Each side of the backpack features an open drink holder with elastic to keep your water bottles secure.
STYLISH: The Mini Sport Backpack by Fit & Fresh is a stylish way to tote around your essentials
GOES WITH EVERYTHING: This black backpack will match with all of your outfits and the gold detailing adds an extra pop of color, making this bag look sophisticated and stylish
STORAGE: Bag features a main compartment and two smaller front pockets, one with a ring to attach keys. These are perfect for storing your essentials such as your wallet, phone, keys, mints, chapstick/lipstick, floss, etc. Also features 2 elastic side pockets for storing a water bottle.
FULL LENGTH ZIPPER: Backpack features full length zipper closures and adjustable backpack straps
Specifications
CLOSURE: Full length zipper
DIMENSIONS: 9" x 6.5" x 11"
Included in the box
1x Fit & Fresh Mini Backpack
Warranty
Estimated Delivery Date
Standard: Tuesday, Dec 8 - Monday, Dec 14.
Enhanced: Monday, Dec 7 - Thursday, Dec 10.
Reviews
Verified Purchase
Beautiful better then photo
Top quality this is much nicer then I expected!
Written by @SusieAboulhosn - October 15th 2020
Verified Purchase
It's cute!
It's nicer than I expected it has a lot of room in it.
Written by @sartav - August 16th 2020
Verified Purchase
Roomy
This backpack was a great value for the money! Small, but expands to be very roomy. I could easily fit all my travel essentials inside and still have room for a wallet in the front pocket. Would buy again!
Written by @Somergirl - August 12th 2020
Verified Purchase
Great value
Written by @et3dale - July 21st 2020
Verified Purchase
Perfect Backpack
I am very pleased with this backpack. The size, color, number of pockets, material are all great. I would order it again and would recommend any one wanting a mini backpack to order it.
Written by @Jenrraider - June 25th 2020
We love these. I bought one for both my daughters and myself!
Written by @JustNikki_69 - June 7th 2020
Verified Purchase
Lovely Mini Backpacks
These (2) Backpacks look good . I like the quality of material, style and looks. I bought two, one for me and the other for my sister.
Great product. Thank you, Morning Save! ♡♡♡
Written by @banksj55 - June 3rd 2020
Verified Purchase
It is a perfect fit!
I bought it hoping to fit my Crome book in it. Well it just fits, yay! & the quality is much better than I expected. Thxs.
Written by @brendaperdue - June 3rd 2020
Verified Purchase
I like the water bottle holder on sides, inside pocket, outside pocket. Good size.
Written by @mwkenney - May 13th 2020
Verified Purchase
This backpack rocks!
I'm happy with this backpack because of it's size. This is so much easier to manage than a purse . I'm very satisfied with ALL my purchases. Thank you MorningSave!
Written by @horseNflight - October 2nd 2020
Verified Purchase
It would be helpful if the zipper for the large section was on both sides.
Written by @vwardgravely - August 6th 2020
Verified Purchase
I missed that it was a mini backpack, but it's ok
Written by @crw9771 - February 6th 2020
Poor delivery del to wrong house
Written by @Paulette1948 - November 3rd 2020