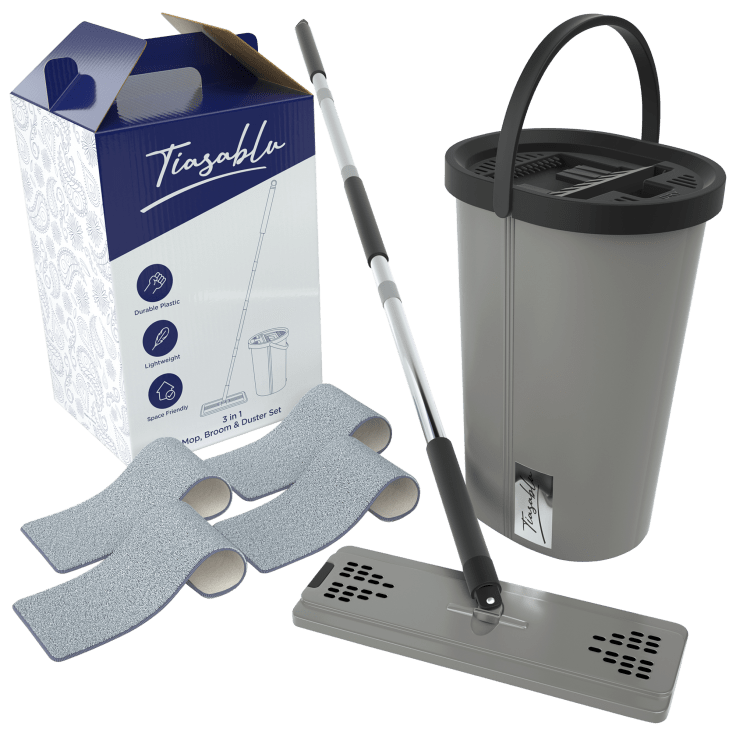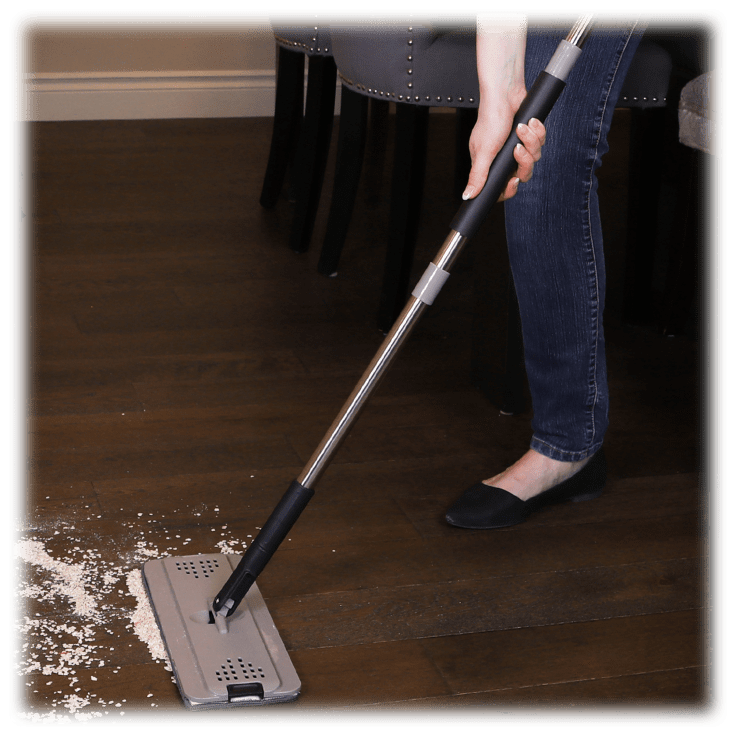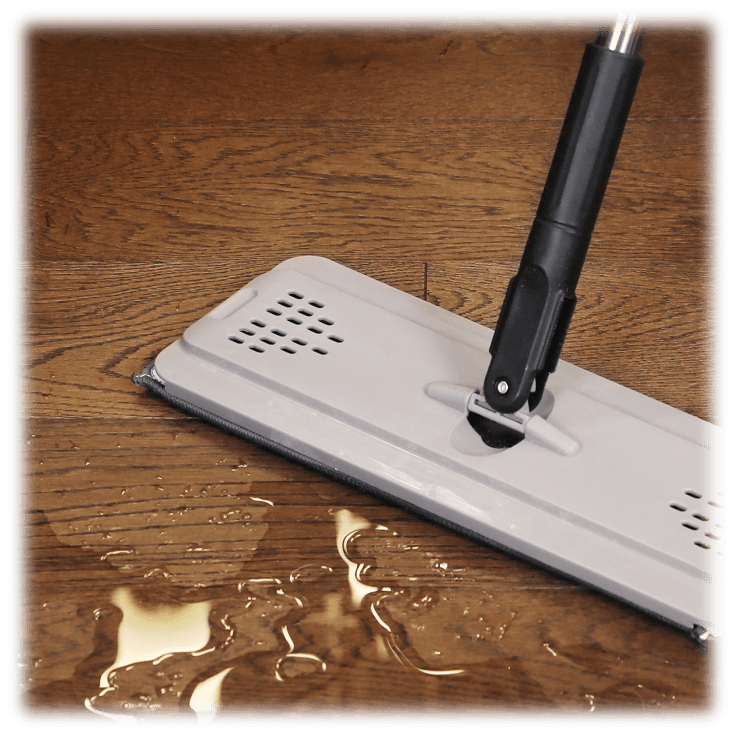 Tiasablu 3-in-1 All Purpose Swivel Mop and Floor Sweeper
Features
Mop, Sweep and Dust Your Way to Clean:

Our mop with washable head can be used as a mop, a broom, or a duster with its reusable mop pads that are machine washable and can easily pick up dirt, grime, spills, and animal hair

Ergonomic and Full Range Clean:
With a 360 swivel head and a dual handle grip system with a detachable shaft that allows for short-range and distant cleaning, you'll never want to use another wet dry mop again
Use on any Surface:

Use as a kitchen mop or bathroom mop, this versatile household cleaning essential won't scratch surfaces and can be used on virtually all types of flooring

Attractive Design:

Most swirl mops with wringer buckets are an eyesore
Our microfiber dry mop kit is comprised of attractive stainless steel that doesn't show water droplets or fingerprints
Simply hang the mop handle for easy storage, afterward

Space Friendly and Easy to Use:

The bucket is 13.8" tall, and the mop handle is 50.4" long when fully connected
The detachable close range handle is 28.1" long
Instructions for use, application of mop pads, and all product contents included in the box
What's Included?
1x Mop Head
4x Mop Handle Attachments (2 with rubber handles)
4x Versatile Washable Pads
1x Mop Bucket
1x Mop Bucket Lid
1x Mop Bucket Insert
1x Drainage Plug
Warranty
Reviews
Verified Purchase
It's a great size for a mop
I really like the color the size it's perfect for my camper trailer I'm so happy I ordered two I wish I could have gotten a couple more
Written by @akiapenn - August 12th 2021
Verified Purchase
killer it is a great deal
great value hard plastic and comfortable pole cushy handle smaller mop bucket but it works
Written by @Stephra - September 13th 2021
Verified Purchase
Smaller than expected
But we will see how it works. Perfect size for our home.
Written by @Tk102100 - August 1st 2021
Verified Purchase
Works OK. Cheap but for $19 not bad, OK. Came quickly. Some issues with FedEx delivering pkg, lightweight throwing on porch. Not READING SIGN to ring bell OR knock hard. Disabled. Hard to get to pkg did manage…neighbor would have helped. But NO ONE READING signs.
Written by @JaneGJ - August 1st 2021
Verified Purchase
Does not work!!
When you put the mop into the bucket the pad gets stuck and peels off mop head. This happens on both side of the mop bucket!!
Written by @Norlea - August 8th 2021
Verified Purchase
Order not complete!!!!!
Did not received the complete order!!! BEAWARE
Written by @H13ill - August 7th 2021
Verified Purchase
I ordered 2i received them but when putting them together one mop has 2 parts of item A and I need item C. Can you please assist me
Written by @blackstonem123 - August 3rd 2021
Verified Purchase
Item in bad condition. It smells used and dirty when box was opened. Need to return
Written by @Dothammond - August 6th 2021